I'm really behind this week.  I've had sick kids, sick me, computer problems and a serious lack of mojo these last couple of weeks, BUT I do have a lot of products that are half finished and should be done and ready for the shop within the next few days.  So there will be new things coming out soon!
I do have this cute little turkey I made as a freebie, though.  Just in time for Thanksgiving!  Click the image to download…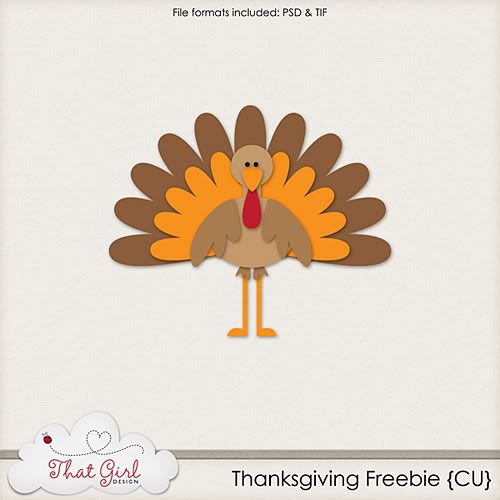 Yesterday my computer had a hiccup, which resulted in my husband taking it apart and putting it back together again.  I think I held my breath the entire time, it was like a family member was in surgery, you know?  No matter how skilled the doctor is, it's a nerve-wrecking situation to be in.   But she's fine now (thank you, Chris!) and I was able to do a little work this morning.  I was experimenting with making brushes in Illustrator and I ended up with a cute tree, which made me think of apples so it must be an apple tree.  Perfect timing since fall is coming up quick!  Just click the image to download it if you'd like it.
Enjoy your weekend!
I made some pandas into stickers tonight and gave them away on my personal blog, but then I thought I'd go ahead and give the PNGs and brushes away here as a commercial use freebie if anyone is interested.  Just click the image to download.  Hope you like them!
Have a great weekend!
First off let me say that this is a very detailed tutorial for beginners who may not be used to working with paths yet, so I'm sorry if it's a little long-winded for most of you.  I just wanted to be sure I was clear for those who may not have tried this sort of thing yet.  😀  And I know there are lots of actions out there and some of them are really awesome, but I prefer to do things this way – I feel I have more control.  If you prefer actions, that's fine.  Everyone has their own way of doing things.  😀  Okay, onward!
Create a new canvas.
Either drag the image you want stitched onto the canvas or create a new image.  I'm using a circle here in my example.  [View Image]
Press and hold the Ctrl key while clicking on the image thumbnail in your layers palette.  This will create a marquee around your shape.  [View Image]  If you want to stitch right on the edge, (I usually do this with a zigzag stitch) then go on to the next part.  If you want your stitch to be further in then go to the top of the screen to Select > Modify > Contract and contract it a bit.  I usually contract between 10-25 pixels depending on the size of my image.
Create a new layer above your image.  This is the layer your stitches will go on.  [View Image]
Next go to your Paths palette and click on the fourth button from the left.  (If you hover over it it will read "Make work path from selection.")  This will change the marquee to a path.  [View Image]
Now select your brush tool and choose a stitch brush.  (If you don't have one, you can download one that I made: Sitich for tutorial .)  [View Image]
Choose your stitch color (foreground color) and click on the second button from the left in your Paths palette.   (If you hover over it it will read "Stroke path with brush.")  This should create a stitch effect around your image.  [View Image]
If you are happy with the way it looks then delete your path (the last button in your Paths palette, it looks like a trash can) and apply a bevel, a tiny shadow, etc.   [View Image]
If you don't like the way it looks – maybe the stitches are too big or too small – then just Ctrl + Z and go back to step 6 and make some adjustments in the brush palette.
I find that even with my favorite brushes I am constantly making adjustments because not every stitch looks perfect with every image.  It's trial and error, which is why I do things manually rather than using an action.  I have more control and in the end it's easier for me.
I hope this was understandable!  If you have any questions, feel free to leave me a comment below. 
  Thanks and have fun stitching!
Oh my poor neglected blog!  I decided I had to post something, anything!  So I made up a little freebie for you. 
I've started saving my layered files as PSDs and TIFs, rather than PSDs and PNGs, so if you are someone who doesn't use PSDs, would you mind letting me know how the TIFs work out for you?  Hopefully everyone can use one or the other.  And I think this will make my folders a lot less cluttered, too.
Anyway, on to the freebie.  Click the image to download.